Used Car Buying Checklist
When you're shopping for a used car near Harvey, New Orleans, and Metairie, LA, it's helpful to come prepared with a used car buying checklist. Knowing what to look for can help you make an educated decision when it comes to selecting your next vehicle.
Gulf – Bohn Ford put together this comprehensive used car buying checklist to help you. Bring it up on your smartphone when you're ready to take a test drive, and consult it as you check out the car to make sure you don't forget anything.
Used Car Buying Checklist: First Impressions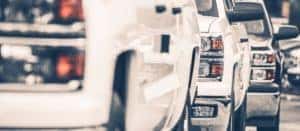 When you show up at the used car lot to check out a vehicle, there are several things you can check before putting the keys in the ignition. Start by checking the exterior. Look for things like:
Bubbling paint that may be covering rusted areas
Mismatched paint that could indicate body work after a collision
Unevenly worn tire tread, which could mean alignment issues
Cracked or bubbling tires that need to be replaced
Make sure to pop the hood and do a quick visual check for low fluids, broken hoses, and a corroded or misshapen battery. Have a friend or sales rep turn on all the exterior lights, so you can make sure they all work. This includes:
Turn signals
Brake lights
Headlights
High-beams
Daytime running lights, if equipped
Fog lights, if equipped
Finally, before you get in, don't forget to check out the trunk. Make sure it looks and smells clean.
Used Car Buying Checklist: Getting Comfortable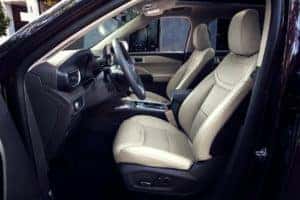 Moving to the interior of the pre-owned car, try opening every door and sitting in every seat to make sure they're all in good shape. As you check out the cabin, look for things like:
Torn or discolored upholstery
Signs of leaky windows or sunroof
Unpleasant smells
Now, you can settle yourself into the driver's seat, move it into a position you find comfortable, and buckle up. Start the car, staying alert for any odd noises, smells, or dashboard lights. Then, test out some of the accessories and controls. This could include:
Making sure the infotainment system works
Trying both the heat and the AC, regardless of season
Opening and closing the windows and sunroof
Testing the windshield wipers and wiper fluid
Used Car Buying Checklist: The Test Drive
If you tested out the infotainment system, turn the radio off before you start driving. You'll want to be able to hear any weird noises that might pop up on the highway.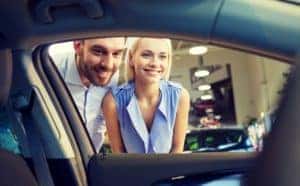 Next, put your foot on the brake pedal to see how it feels. Is it firm and responsive, or does it feel squishy? A soft brake pedal could mean the brake system needs repairs.
Now's the time for the exciting part: Start driving! As you drive, check for things like:
Wobbly feel, excess vibration, or pulling to one side
Clicking or scraping sound when you turn the steering wheel
Squealing or grinding sound coming from the brakes
Hesitation or lag between gear changes
Ease of parking in both parallel and perpendicular spaces
Also make sure to pay attention to how the car feels over bumps in the road. And, as always, make sure to take your test drive through a variety of roadways—including back roads, highways, and even parking lots.
Used Car Buying Checklist: Final Notes
If everything checks out and you enjoy the way the car feels, congratulations! You're well on your way to finding a used car to take home. There are a few last things you'll want to check:
Is the owner's manual in the glove box?
Can you see the CARFAX Vehicle History Report™?
Will they let you take the car to your trusted mechanic?
Throughout the process, if any issues pop up, make sure to bring them up with the seller. If they don't address them, don't be afraid to walk away!
Test Drive a Used Car Today!
Now that you're equipped with these used car buying tips, it's time to put them into practice. Luckily, Gulf – Bohn Ford has a diverse selection of used cars right here on our lot. If you're in Harvey, New Orleans, or Metairie, LA, check out our used car inventory online and contact us to schedule a test drive!