Truck Dealer Marrero LA
Marrero, LA, is a picturesque community in Jefferson Parish nestled along the West Bank of the Mississippi River and home to more than 32,000 people. It's just a short drive from New Orleans, but there's plenty in town to enjoy with multiple eateries, shops, and local parks.
If you work near or around the Marrero area, you know how important it is to have the right truck to help you get the job done. If you're in the market, you may want to find a helpful truck dealer near Marrero, LA, to get started.
When you're ready, find us at Bohn Ford!
---
Browsing the Marrero Truck Dealer Selection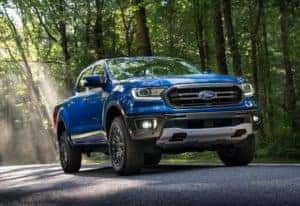 It's an exciting time when you set out to find the right Marrero trucks for sale. Luckily, you don't have to travel far to find trucks for sale because our dealership team is here to help you! Whether you're looking at the standard-duty Ford F-150, the powerful Ford SuperDuty F-250, or even the agile and energetic Ford Ranger, there are plenty of trucks for sale near Marrero you'll want to check out.
You can actually get started right now by checking out our inventory online. Using our filters, you can narrow down the results to find the model that best suits your style and needs. You can search by price, engine power, cab/box configurations, and more. Finding the right truck has never been easier!
---
Learn All About Your Favorite Trucks for Sale
As a truck dealer near Marrero, LA, we feel it's important that you know all your options to make the decision that's right for you, your lifestyle, and your workload. Our Ford truck reviews are here to help you learn more about your various options.
These guides will give you a strong sense of what your preferred trucks have to offer. You'll learn about their engine power and options, towing and payload abilities, cab/box setups, interior features, and more! These reviews will help you get a sense of what each of these trucks has to offer so you can decide on the one that's perfect for you and your duties around the jobsites of Marrero.
Of course, when you're in the midst of finding the right truck for your needs, you're probably checking out numerous models. So, how do you decide among so many powerful options? You compare them!
We've assembled an entire library of Ford truck comparisons. These guides can help you learn more about your choices. They'll showcase each Ford truck with what it offers and how it compares to similar trucks in their class. You'll be able to see the differences in towing, engine power, truck configuration, features, technology, and more.
These reviews and comparisons can help you even before the ultimate research experience: the test drive. You'll learn a lot from these guides, so you'll be able to put your knowledge to the test as you experience your next truck firsthand!
---
Take the Test Drive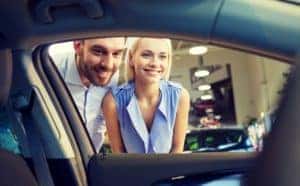 After reviewing your options and checking out our resources, you'll be ready to take the trip to our truck dealership from Marrero, LA, to get a better look at your options. A member of our team can help you find the trucks you've been researching in our inventory. They'll also provide you with additional details about the specs and features as well as the available packages and warranties.
Once you have all the details you need, you'll be ready to take your first ride! The test drive will give you the hands-on experience you need to decide exactly what you think about the truck. You'll be able to get a feel for its power and handling while you take a closer look at its interior features and comforts.
Once you pull back into our dealership and put the Ford truck in Park, you'll know how you feel about the truck. If you give it the green light, you'll head to our finance center to work out the deal that will get you back out on the road!
---
Ford Truck Service & Maintenance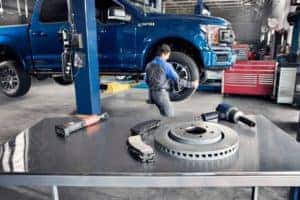 When you're putting your truck to work, you'll want to keep up with its maintenance. Ensuring it gets the service it needs will enable it to continue performing well on the roads and jobsites. Our technicians are highly skilled and Ford certified, so they're the best hands to make sure your truck remains in great shape and condition. That way, you can rely on it to get around and haul some serious materials on the roads of Marrero and beyond.
We even carry genuine OEM (original equipment manufacturer) Ford parts. These parts are designed for your specific truck. While aftermarket parts are popular choices, they provide more of a general fit. They're even made from cheaper materials, which causes them to wear faster, so you'll have to replace them sooner and more frequently. Ford parts are guaranteed to last you for the miles!
---
AcceleRide® Your Driving Experience
The car-buying experience has evolved over the years. Much like nearly everything in today's world of shopping, you can even buy your car online! AcceleRide® is a tool we use to help you complete the entire car-buying process—from start to finish—in the comfort of your own home!
The process begins with browsing our inventory for the model you're interested in. Once you select it and click AcceleRide®, you'll be brought to a menu to choose your payment option: leasing, financing, or cash. You'll even have the opportunity to Value Your Trade to see what it's worth and how it can be applied to your down payment.
Next, you'll select any available warranties or packages you'd like to include with your truck. The last decision is figuring out how you'll get your vehicle. You can schedule a time to pick it up at our dealership, or you can have it delivered right to your door!
Get Started at Your Local Truck Dealer near Marrero LA
Are you ready to get started finding the right truck for sale near Marrero? You can start by browsing our inventory online, or simply schedule your test drive with us at Bohn Ford today! We'll help you find the right Ford truck near Marrero so you can be at the helm of a powerful and reliable pickup!