How to Test a Car Battery
At our New Orleans area service center, we do a lot of battery services for drivers who want to keep their cars energized in the Harvey and Metairie areas. However, occasionally, we have people ask us how to test a car battery themselves.
While the factory-trained and -certified technicians at Bohn Ford are happy to perform this simple service for our customers, it's also something you can do at home if you prefer. Here are the steps you'll need to follow:
1.Have the Right Materials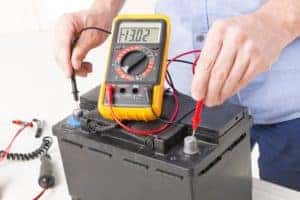 Testing your car battery regularly is a great way to get an idea of its lifespan. If you choose to do this at home, please make sure to follow all the necessary safety precautions since you're dealing with electrical equipment.
First, you'll want to have the appropriate materials:
Safety glasses
Protective gloves
A digital multimeter (DMM)
A DMM is a handheld device that measures electrical values. You can purchase a DMM at most major home improvement stores.
2.Locate the Battery
While some vehicles keep their battery in the trunk, most are located under the hood of the vehicle. You can find it toward the front, close to the fender. If you're having a difficult time locating your battery, you can check your owner's manual or contact a certified service technician.
If the battery has any erosion or leaks, you may want to have your battery replaced completely.
3.Attach the DMM
To connect the digital multimeter with your battery, simply match the DMM leads to the corresponding battery cable color (black with black, and red with red). Make sure to attach these correctly to avoid a potential electrical current issue.
4.Check Your Reading
Set the DMM to DC volts and then check the reading. It'll show you a number in voltage, which correlates with a percentage:
12.66 Volts: 100% charged
12.45 Volts: 75% charged
12.24 Volts: 50% charged
12.06 Volts: 25% charged
11.89 Volts: 0% charged
How Long does a Car Battery Last?
Car batteries can last anywhere from four to six years, but there are a variety of factors that can affect how often you need to replace your car battery. Here are a few things you can do that may help to make your car battery last longer:
Avoid frequent short trips
Stay away from bumpy roadways
Keep your car out of extreme heat
If you want to learn more about keeping your car battery in great shape, contact our service center team.
Dead Car Battery Symptoms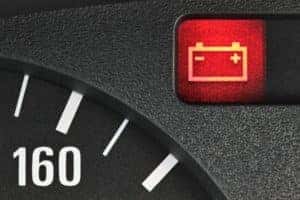 While we recommend doing a car battery test regularly (ideally with every oil change), there are some symptoms you can look out for that can indicate it's time to visit your dealership's service center for battery repair:
The Battery Indicator or Critical Warning Message dashboard light comes on
You observe corrosion or buildup on the battery
You're experiencing electrical component issues
Your engine doesn't start correctly
If your car battery is dead, you may need to locate a good Samaritan for a jump. If that doesn't work, contact the service center at your dealership for a tow and car battery replacement.
We Can Test Your Car Battery
If you want to learn more about how to test a car battery, contact the service center at Bohn Ford. We'll also gladly take care of this service for you in our state-of-the-art facility.
Drivers near Harvey, Metairie, and New Orleans can contact us to make a battery test appointment today!