Ford Dealer Belle Chasse LA
The community of Belle Chasse, LA, sits on the west bank of the Mississippi River and is home to a major naval air station for the U.S. Navy Reserve. Not only does it have interesting places of its own to explore, but it's just a short drive away from all kinds of entertainment.
When you're itching to get out and about and explore the area, our Ford dealer can help. At Bohn Ford, we're committed to helping Belle Chasse residents find a Ford they'll feel good about for years to come! Drop in and see us to get started on finding your next car!
A Ford for Every Shopper
Ford makes a variety of cars, trucks, vans, and SUVs, and you'll find them all when you visit our showroom. The Ford F-Series of trucks–F-150, F-250, etc.–consistently succeeds when it comes to towing, hauling, and off-roading, and cars like the Fusion, Focus, and Fiesta are well-known for their agile, fun-to-drive quality.
That's not all–the utility of SUVs like the Escape, Edge, and Expedition have endeared them to shoppers, as well. There are plenty of options for you to consider. You can get started on your browsing experience at our Ford dealership near Belle Chasse by checking out our inventory to see what we have in stock.
Browse the Selection Online
Since we're a Ford dealer near Belle Chasse, LA, we're easy to get to for when you're ready to head over and start checking out the selection of Ford trucks and SUVs. From there, you can get a closer look at the models to see how they differ in size, stature, and style. You'll have a well-rounded experience for when you're ready to find your next car.

Of course, you can actually get started on your experience right from home without making the trip to our Ford dealer from Belle Chasse. You'll be able to browse the selection online! Using your computer, phone, or device, you can get a look at our Ford inventory to see what's in stock and what models may be right for you.
You can even use the filters to narrow your search and find vehicles based on factors and components that are most important to you. You can search by model, price, body style, engine size, and more. You can find your next SUV or truck in just a few clicks. You'll save yourself time and the trip to our Ford dealer near Belle Chasse, LA, until you're ready to complete the process.
Ford Research Library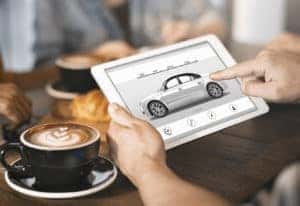 As a Ford dealer serving Belle Chasse-area drivers, we aim to help in any way we can to assist drivers in finding the vehicle that's perfect for them. One of the best ways to find exactly what you're looking for is to conduct thorough research on your favorite models. It's why we have a vast library of Ford research materials that are free for you to use on your journey.
Our Ford reviews are a great way to get started on learning about your favorite model. These guides delve into and explore the vehicle's engine power and options, cabin space and comfort, features and technology, and even safety and driver-assistance. By learning all about the model, you can tell if it's right for you and your test drive will be more informed.
If you're considering a few different models, you may want to consider our Ford comparisons. These guides take your favorite Ford model to see how they measure up to similar models from different brands. The comparisons showcase the vehicles' similarities and differences with engine performance and abilities, competing cargo space and comfort, technology, and style. You'll see what the real choice is.

We also have trim-level comparisons. These guides can help you navigate the different versions of your preferred Ford truck or SUV. They'll show you the varying trim levels with how they differ in engine selection, interior features, available technology, and even trim-specific style and features. You'll be able to figure out which version of your preferred Ford vehicle is right for you.
Belle Chasse Ford Dealership Financing
Thinking about leasing your next Ford? How about taking out a car loan? Our expert finance team is here to help. They'll help you find the plan that fits your needs, and if you need a loan, they'll work with banks and credit unions across Plaquemines Parish and beyond to find financing with terms and rates that you're comfortable agreeing to.
Our finance team will take the time to go over all your options. They'll highlight the terms and conditions, so you have the strongest sense possible when you sign. You can even get a head start on your financing by filling out our online application. Once you submit this form, our experts will have all the information they need to get started on your paperwork, so when you arrive, your financing experience will be streamlined!

We also have some tools to help you get a better idea of the overall costs of the car-buying experience. Our payment calculator will help you see what your monthly payments might be. By inputting your intended down payment, preferred term, and rates, you'll get an estimate of what you'll owe each month based on those factors.
You can also get an estimate of what your current vehicle is worth if you plan on selling it or trading it in to us. All you need to do is provide the make, model, VIN, year, trim, and condition. It will then give you the vehicle's Kelley Blue Book® Trade-In Value, so you can plan ahead on your trading experience.
Buy Your Ford Online

Since the car-buying experience has gotten so much easier and convenient, you don't even have to leave the house to simply shop around. You can buy your Ford online! AcceleRide® is a platform you can use to select your vehicle, pick your payments, value your trade, get financed, and even have your vehicle delivered right to your home.
You can complete the process without having to make the trip to our Ford dealership from Belle Chasse, LA. Buy online today for one of the most convenient car-shopping experiences!
Getting Service & Maintenance at Our Ford Dealership near Belle Chasse LA
When it's time for service, your vehicle is in great hands. Our technicians will not only provide the maintenance that your vehicle needs, they'll perform an inspection to make sure that all of your vehicle parts and components are in great condition and the road ahead smooth.
If you'd rather handle repairs yourself, you can order genuine Ford parts from our parts center. There are plenty of benefits to choosing genuine parts over aftermarket ones. Not only are you finding the exact part specifically designed for your vehicle, but it's made from more durable materials that will last, so you can continue your trips without any hiccups.
Exploring Belle Chasse LA
After you've leased or financed a new car from our Ford dealer, there are all kinds of things you can explore in and around Belle Chasse. Drive over to Woodlands Trail & Park for a peaceful walk through 13 miles of natural forest trails. It's a great place for viewing wildlife, migratory birds, and lush growth.
The city of Belle Chasse has a humble history. It takes its name from a French phrase meaning "beautiful hunting". However, the origins of the city's name have been disputed for generations. Today, Bella Chasse is home to more than 12,500 people. Due to its proximity to the Big Easy, it's a home to many commuters. Belle Chasse has plenty to offer within its borders and beyond.
When you're ready for a night out, drive north to New Orleans and experience all kinds of entertainment in the big city. Try out Boomtown New Orleans, a huge hotel and casino with four restaurants, a nightclub, and 30,000 square feet of gaming space!
Belle Chasse and its surrounding areas have plenty to offer in terms of entertainment and convenience. Whether you're a long-time resident, or you're just passing through, Belle Chasse, LA, has a lot to offer!
Stop in at Our Ford Dealer near Belle Chasse  
Whether you're looking for a new Ford vehicle or maintenance/parts for your current one, don't hesitate to stop in at Bohn Ford.
Our sales, financing, and maintenance experts are always willing to help residents of Belle Chasse, LA, find the Ford services they're looking for. Drop in, schedule your test drive with us, or simply buy your Ford online today.
We're here and happy to help you every step of the way to make sure you find the right Ford and get the most out of your experience!