Download to receive a $500 off MSRP on a new Ford coupon!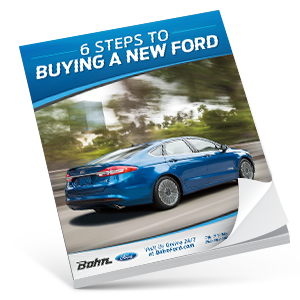 Shopping for a new Ford is always an exciting experience, but it's important that drivers near Harvey, New Orleans, and Metairie slow themselves up enough to shop smart and find the car best suited for them.
We at Don Bohn Ford want to show you how to do that with our FREE ebook, The 6 Steps to Buying a New Ford. This guide will give you all sorts of helpful tips for Ford shopping. It covers processes like:
Considering Your Own Needs
How to Research Thoroughly
Deals, Incentives, and Financing
What to Look for in a Test Drive
And More!
When you're finished reading, you'll know how to leave no stone unturned in your quest for the perfect Ford car.
To get your free copy, just fill out and submit the form on this page with some basic information. Alongside the eBook, you'll get a value-saving coupon for $500 off MSRP on a new Ford vehicle. Follow the six steps to smart car shopping and put that coupon toward a Ford car you'll love for years to come!