2022 Ford F-150 Lightning Preview
Are you looking to electrify your experiences on the roads and jobsites of Harvey, New Orleans, or Metairie, LA? If so, you're probably wondering about the 2022 Ford F-150 Lightning.* This all-new electric pickup is set to impress with its performance, capabilities, and sophistication. If you've come here looking for a 2022 Ford F-150 Lightning preview, you've come to the right place!
At Bohn Ford, we're here to shed some light on the electric F-150 model! While there's still more information to come, we're going to relay everything we know so you can prepare for your journey!
F-150 Lightning Electric Performance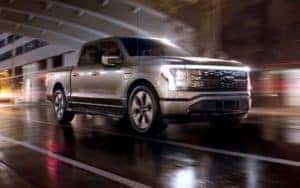 The F-150 Lightning comes powered by an electric motor, which isn't located under the hood but further into the middle and rear of the truck. The hood features a frunk, which is a front-based trunk to store materials. The electric motor is capable of generating 563 horsepower and 775 lb-ft of torque—the highest torque output of any F-150 model in its history.
While the engine performance is impressive, this pickup also aims to deliver with towing and hauling. Whether you're taking materials to the jobsite or heading to the lake with your boat tagging along, the 10,000-pound towing capacity and the ability to carry up to 2,000 pounds should suffice.
Driving Range & Electrical Charging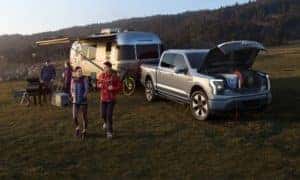 Since the F-150 Lightning is an all-electric truck, it means no more time spent at the gas station. Instead, you can charge the vehicle at home or at a public charging station.  Of course, the Intelligent Range system keeps you in the know about how much farther you can travel until you need to charge the truck.
Thanks to the lithium-ion battery, the truck is capable of some impressive driving ranges. The standard-range battery is able to achieve an EPA-estimated 230 miles. There's an extended-range option that takes the truck even farther, with an EPA-estimated 300-mile driving range.
Cabin Features & Technology
The Lariat and Platinum trims come with SYNC® 4A. This system includes a modernized touch screen that's 15.5 inches. It even features intelligence, which is designed to adapt to your driving behavior. You can use the screen or its voice-recognition system to access the features.
SYNC® 4A comes with cloud-connected navigation services and even wireless connectivity. Using the screen, you can access your phone through Apple CarPlay® or Android Auto™. It even features integrated Amazon Alexa, which connects your electric pickup to your smart home device.
Get Updates About the 2022 Ford F-150 Lightning
At Bohn Ford, we hope this 2022 Ford F-150 preview has given you some of the details you've wanted. As we said, more details are yet to come. We hope we'll soon get an even closer look at this impressive electric truck with what it offers, what it can do, and when it's set to debut at our dealership.
In the meantime, keep in touch with us and check back to learn more about this truck and when it will be available to take for a test drive. That way, you'll be able to see if it's the right choice to take on the roads and jobsites of Harvey, New Orleans, and Metairie, Louisiana!
* Model not yet released. All specs herein have been cited from Ford Media Center and Ford.com and are subject to change by the manufacturer.