2021 Ford Bronco Review

Have you been eagerly awaiting the return of the Ford Bronco? This impressive and almost pioneering SUV has laid dormant for almost 25 years, but now the 2021 Ford Bronco is the rebirth of this classic and innovative SUV.
While the release isn't scheduled until 2021, our team at Bohn Ford figured we'd give drivers in Harvey, New Orleans, and Metairie a bit of insight into what to expect with this long-awaited vehicle. Keep reading to see if the 2021 Bronco has what you're looking for in your next ride and contact us with any questions!
Ford Bronco Power & Performance
Since automotive engineering and technology have made several advancements in the last two decades, the new Ford Bronco will showcase that evolution. It comes standard with a 2.3L EcoBoost® 4-cylinder turbo engine across most trims. It's paired with a 7-speed manual transmission with Crawler Gear that can be swapped out for a 10-speed automatic transmission with Trail Control™ on select trims.
While the standard engine packs quite a punch, drivers can opt for more power with the 2.7L EcoBoost® V6 engine. This turbocharged V6 engine comes standard with the 10-speed automatic transmission.
In-Cabin Features & Technology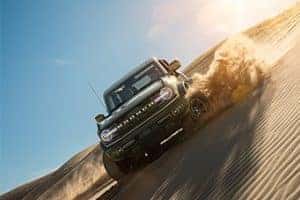 The spacious cabin of the 2021 Bronco offers plenty for you and your passengers in terms of comfort and features. It comes standard with the new SYNC® 4 infotainment system that has a sophisticated 8-inch full color touchscreen display mounted into the dashboard to access your media options and in-cabin features.
From this intuitive 8-inch touchscreen, you can select media from the AM/FM radio, access your media from the portable media player connected through the USB port or auxiliary input, or even choose music stored on your phone paired through the Bluetooth® system. The screen will also integrate your phone, allowing you to access the text messages, contacts, apps, and more—all without having to pull your phone out to select them manually.
2021 Ford Bronco Style
The Ford Bronco has gone through many iterations since it was first introduced in 1965. While it has gone through many styles, it's always retained a commanding stature and appearance throughout the decades.
The newly redesigned 2021 Ford Bronco is a tip of the hat to its earliest incarnations but with a more modern aesthetic. It features a performance grille that's adorned with the Bronco emblem and badging while showcasing a stylish and agile frame. Its power and off-roading abilities are visually apparent with its aggressive tires and impressive ground clearance.
Learn Even More About the 2021 Ford Bronco Today
At Bohn Ford, we hope this guide has helped pave the way for you toward this impressive and highly anticipated SUV. While we're still learning more, we're happy to share our findings with you. Contact us to learn more or keep in touch to receive updates on even more details and specs of this upcoming Ford release. Reserve your Bronco today!
At Bohn Ford, we're happy to help drivers learn more about vehicles they're interested in!