Ford Brake Specials in New Orleans, LA
Front brake pad replacement starting at $79.99!
Brakes are one of the most important safety features of your vehicle so regular brake maintenance is an important aspect of keeping your vehicle safe. At Don Bohn Ford you can trust our expert technicians for brake maintenance, repair and diagnosis. At our New Orleans, LA Service Center our expert technicians are available to assist you with whatever brake service you may need including:
-Replace brake pads and shoes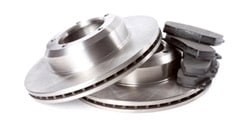 -Brake Fluid Service
-Brake Hardware
-Inspection of hydraulics, fluid and hardware
We offer regular specials and competitive prices on brake services and repair in the New Orleans, LA area.
Questions? Fill out the form to right to contact us or call us at (888) 711-1425.